In his series "Gamification Stories," Billy Laviere reveals that nothing is as it seems. Through his surreal images, he shows what we no longer notice in today's world and based on his personal experiences he examines human existence from a different perspective. He delves into the alleged physical reality surrounding us, the feelings deemed invisible to our eyes, focusing and questioning the existence of our being even more.
"If you want to find the secrets of the universe, think in terms of energy, frequency and vibration."
Nicola Tesla
Billy previously struggled with panic disorder, which involved episodes of panic and memory loss. These experiences reinforced his belief that the world doesn't always appear as we see it. There were moments when he would briefly see through walls, as if a "glitch" occurred in the game. He also experienced seeing himself from an external perspective during panic attacks, much like in iconic life simulation games. These personal experiences explain the distinctive features of the series, especially the isometric view that constantly appears in the images. Through this observational perspective and other game mechanics, the series shows us the experience of the feeling that our world has multiple dimensions. Billy explores the flip side of the coin by discovering parallels between real life, gamification (the incorporation of game elements or game-like features in non-gaming contexts), and the possibilities offered by computer games.
To preserve his mental health and maintain his motivation, Billy Laviere applied gamification and also elements borrowed from the world of computer games in order to overcome panic disorder, anxiety, and stress. The series is not just an artistic creation but also a kind of scientific and social experiment that highlights how gamification and the digital environment can reshape all areas of our lives.
The series contains hidden messages, metaphors, and subtle details to encourage people to explore and understand the Gamification Stories.
Billy Laviere's photographs provide insight into the latest, still unfolding, unique technique. The laser photogrammetry process unveils a completely new artistic channel. The three-dimensional scanning and digitalization of physical elements,allows us subsequent shaping and surface treatments. The compiled digital collages and the creation of atmosphere enable us to read and interpret a complex and infinite visual narrative. The proliferation and advancement of artificial intelligence have had a significant impact on photogrammetry and laser/manual scanning methods, soon to fully replace them. However- unlike other artistic techniques where creative freedom is often greater- the application of artificial intelligence in these areas can restrict artistic expression.
"Everything you see everything around, in your life you are creating and putting there to live your world. So that means you can create anything. (...)You one of the biggest lessons you come to earth to learn is how to manipulate energy. You can't get out of the earth school and graduates till learn how to manipulate energy."
Dolores Cannon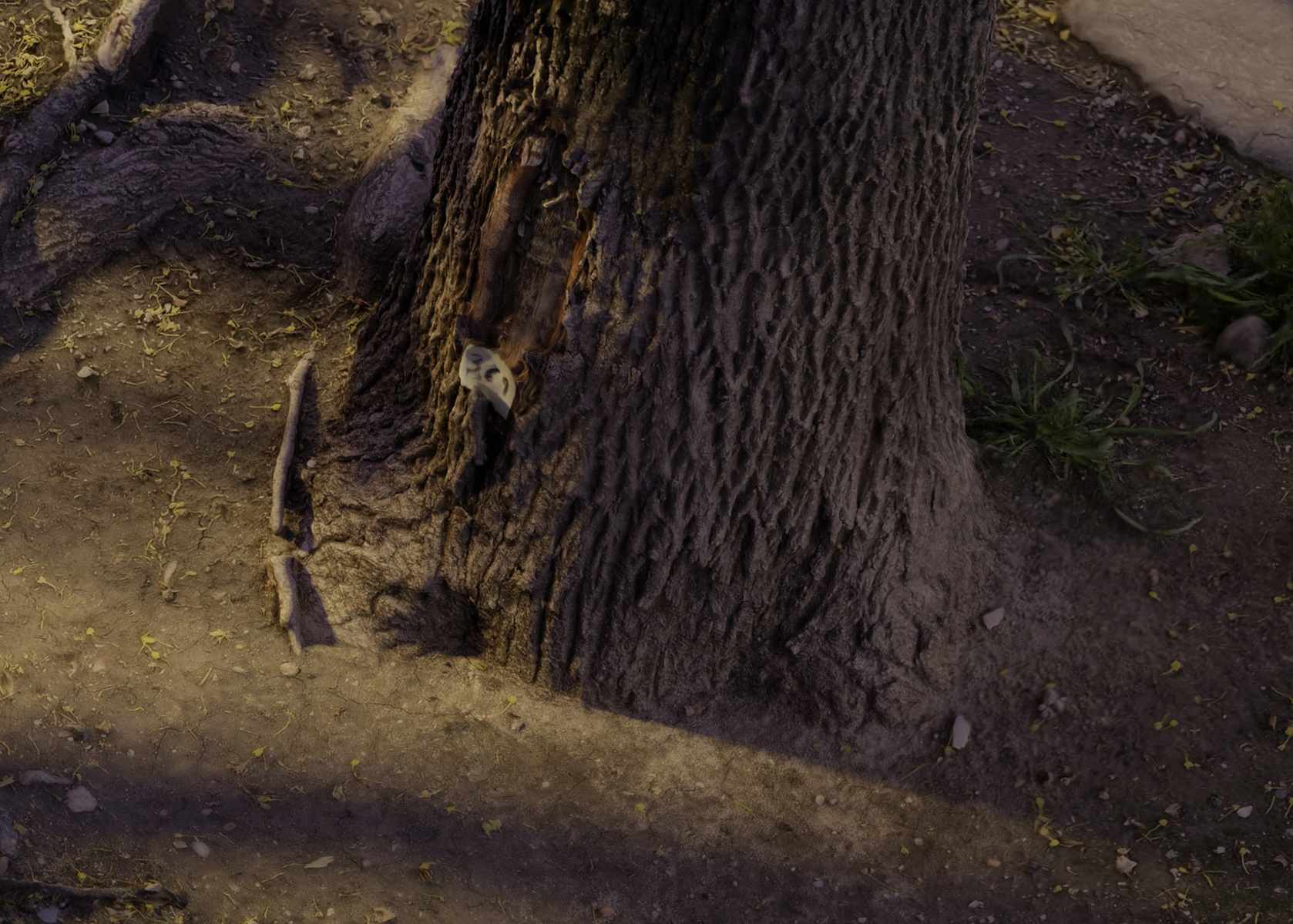 "Here's how the system works. Everything you could ever ask for, you could ever have now or ever ask for in the future, you already have right now. You already have all of it. You simply are not experiencing it. Because everything that has ever happend, is happening now. And ever will hapen is happening right now. And so it is for you merely to reach into the sea of infinite possibilities and call forth the reality you choose now to experience."
Unknown
I exist. Do we exist?
This thought keeps surfacing in my mind more and more often. The great minds have long pondered these questions. As time passes, it feels like I'm digging deeper and deeper. However, I can't do this anytime, anywhere. I need a feeling to push that door open for me to look inside, immerse myself, and search for answers, but usually I only find more questions.
I didn't grow up in a wealthy family; we always had financial difficulties. Being the only child, I didn't have to share my parents' attention, and like this they took great care of me, always making sure I had everything I needed. (...) I remember in elementary school there were waves of exclusion among the students. Once I became a target myself, and it lasted for about a week. It wasn't a pleasant experience. But there were other traumatizing experiences as well, but as I search through my memories, I don't feel they hold enough significance to analyze them in detail. One time, I got stuck in a restroom stall at school. Perhaps that's one of the most memorable shocks I had in elementary school. But it's okay; I managed to get out since then! My dad was health-conscious, and I inherited that trait as well. He passed away from colon cancer in 2018, and for some reason, I feel like that was the real start of everything significant . This loss marked the beginning of a new era. It happened just as I was completing my studies and transitioning into adulthood. After a dreadful summer, not only did I lose him, but the week before, my great-grandmother passed away, and a few months prior, my grandmother as well. Three of us were left: me, my mom, and my grandmother.
These losses opened my eyes. This realization may not have been immediate, but they certainly shook me to the core. Everything happened so quickly, although it had been dragging on for years. These traumas became intertwined with panic disorder, and on top of that, I also had to repeat a year at university which was not my own fault. Then the pandemic hit, as if we reached another milestone. It felt like what happened before 2019 was just a dream. A bad dream.
There was a moment when I was feeling really down emotionally. I was crying, panicking. While I was sobbing, with my eyes closed and tears streamed down my face, a vivid image flashed into my mind. I saw myself from a distance, from above. It was like being in a game. I was crouched in a corner, hands pressed against my face, and I saw the environment that surrounded me. This memory has stayed with me, and was stored away in my mind just like when I was a child in Pesthidegkút. I was riding a bike with my dad down our street, and as I rolled along I saw everything, as it was being recorded like a video I could replay anytime. But my out-of-body experience wasn't a memory or a recorded video in my mind. It felt real. It was like I was playing The Sims, without the information bubbles appearing above my head and the green diamond indicating life. It wasn't just a fleeting image; it was a different camera view. I was like entering a simulation.
Another interesting memory, is also connected to our house in Pesthidegkút: this is where we lived, where I grew up. One evening in the kitchen, with nobody around me, I looked out of the window and for a moment, I became aware that the walls and objects disappeared. They turned into particles, into sets of points, glowing purple dots, and then everything shimmered and the particles returned to their own places again.
As a photographer, these phenomena fascinated me, and thanks to these daydreams, I pondered on how to visually depict them. I wanted to incorporate the camera view from a hugely successful first installment of The Sims from 2000 and combine it with photography. My intention was not to create a game, but to show what happens when the real world intersects with computer simulation. To achieve this, I needed a camera perspective that faithfully reflected the external view of myself. Isometric axonometry would be the perfect view (a spatial representation method in which the lines identifying objects are projected onto the image plane at a 30-degree angle, allowing for proportional representation of distances without distortion), but reproducing it accurately in photography was not feasible. Therefore, for me it was clear that I needed to create a three-dimensional program, combining it with real photographs by using a completely new photographic technique. To transform the real world into a three-dimensional realm, I first capture the environment using photogrammetry techniques and an imaging device equipped with Lidar, a laser sensor.